Jennifer's Place Archive

back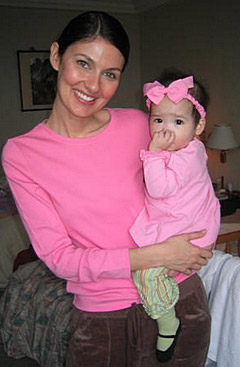 Trumpette Socks

I know that many of you noticed the absolutely adorable socks that absolutely adorable Chloe wore in China! Michelle was kind enough to take a break from her new Mommy duties and share a little shopping information with me . . . to share with you!

The brand of sock is called Trumpette. They have a website at www.trumpette.com. There you'll find the little socks worn by Chloe, as well as other cute and unique styles. Michelle suggests going to Google and doing a search for "trumpette" . . . you'll find many on-line boutiques that carry them. Another tip she recommended is to buy the Toddler size . . . they fit Chloe perfectly.

Thanks Michelle! And thanks to Jean for this fun Jennifer's Place idea!

If you have sent me an idea or question, please know that I will be answering each and every one!