Jennifer's Place Archive

back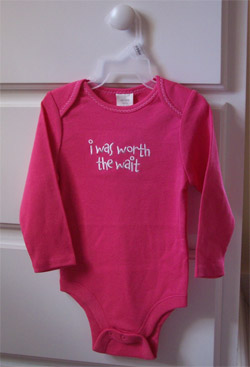 Third Great Giveaway

Hello myadoptionwebsite families and friends!!!

Welcome to our third Great Giveaway . . . . a few little items for your sweet child!

First, though, a few important notes. Please read these first:

We will take entries from now until Wednesday at midnight ET. You must enter each month for a chance to win . . . past entries are not considered. Winners for the 5 prizes will be drawn and contacted on Thursday . . . winners' first names will be posted on the site on Friday.

Please make a careful note of the sizes. The pink onsies are 6-12 months, and 12-18 months.

If you are the winner of a custom bib and are either waiting or home with a little boy, you will be able to contact Julie and select a design appropriate for your little guy.

To enter, please do the following: email us myadoptionwebsite@yahoo.com This is the email account set up for the giveaways. Write "Giveaway" in the subject line. Please give us your name, where you are in the adoption process. I have so enjoyed and appreciated your sweet comments in your entry messages. Due to the busy holiday season, please direct any questions or comments that you want me to respond to to our usual email, joejen92@yahoo.com. Thank you!

OK - on to the fun part - the PRIZES!!

I Was Worth the Wait onsie! I found these at Old Navy and just love them! Again, I have two to give away - one is size 6-12 months, and the other is 12-18 months.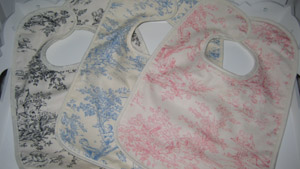 Beautiful boutique bibs from Pink Polka Dotz, www.pinkpolkadotz.com Julie has kindly donated two bibs, each featuring the lovely Central Park toile fabric, for me to give away to two lucky winners! (Two winners will each receive one bib.) AND, she is going to personalize or monogram them for you! Thanks so much, Julie! Be sure to visit her site to check out the variety of unique, monogrammed gifts. Need a special item for Secret Pal? She'll give you a 10% discount and ship it for you!

And last, a cute set of 2 holiday bibs with 2 sets of matching utensils that I picked up at the $1 Spot at Target (yes, I spent a whopping $4 on this prize!) Hey, who doesn't love a bargain! This set will also come with a copy of Adrienne's favorite Christmas book, a sweet and simple telling of the birth of baby Jesus - - a great way to introduce the true meaning of Christmas to your little one.

Thank you everyone for entering . . . good luck!!

p.s. . . . there are a few other boutique owners who've agreed to donate items for future giveaways, so remember to check back next month!