Jennifer's Place Archive

back



A Few Notes on The Wait and Clothes Talk

What a busy time we've had here at myadoptionwebsite! Many families in China - as well as one in Kazakhstan and one in Guatemala - during the past several weeks, new websites being created, a wonderful reunion in western Tennessee, and preparations for the holiday season Great Giveaways! Also, last week we turned in our paperwork to the Pittsburgh USCIS to extend our I171H. We took Adrienne along and it was very neat to have her see part of the process we underwent while adopting her. Of course we took pictures and will post them soon! That same day we purchased Adrienne's Christmas present - - tickets to the Nutcracker! We're counting down the days until we can enjoy this special holiday tradition once again.

As always, this long wait is very much on my mind and heart. We have a June 2006 LID, and will hit the 18 month mark in mid-December. So hard to believe. Harder to believe is that we are probably (hopefully?) just half way there. I've tried a few times to write about celebrating this holiday season and waiting for our daughter - - so many of you are experiencing the same emotions, I'm sure. I haven't been successful in putting my thoughts into words, and if I don't, let me say here that I understand and you are not alone.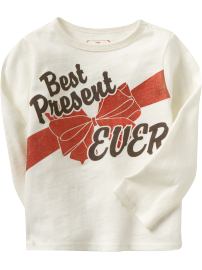 On a lighter note, a myadoptionwebsite mom emailed me about this fun Christmas shirt at Old Navy, or on www.oldnavy.com . . . It says "Best Present Ever" and if you are traveling to China in December, this would be a great little shirt to take with you!

Also - Janie and Jack has several lines on sale right now! Janie and Jack sells absolutely beautiful clothing for boys and girls, much of it classic and ideal for special occasions or just anytime you want to dress your child in something lovely! Their one-piece outfits for little ones are especially sweet . . . be sure to check out the Tartan Rose line. www.janieandjack.com

Next up, we'll kick off the next Great Giveaway!