This and That
Hello families and friends,

Our summer is flying by at lightening speed! Can't believe it is already July . . . I hope you enjoyed this holiday weekend, and have a fun and safe July 4th.

This Jennifer's Place is a little of this and that - a mix of fun information for you!

Tammy wrote to tell me about one more super resource for Chinese squeaky shoes, at prices that can't be beat! The site is: www.redthreadchina.com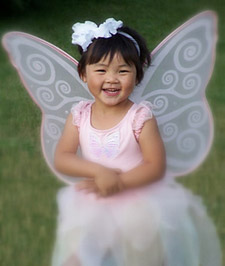 Another site you might want to check out is Granny B's Clothesline! This talented woman creates delightful pillowcase dresses with fun and colorful fabric. If you like this style of dress, you'll want to visit www.grannybsclothesline.com This suggestion came from Tina, who purchased 3 dresses for her future daughter and was really impressed with the quality!

I asked Keri about the beautiful photos of Claire on their latest update (see sweet Claire to the right). She used Picassa 2, which she downloaded free from the internet. Great effects for great photos!!

Has anyone else noticed the popularity of the "Everyone loves a brown-eyed girl" t-shirts? They are from Target!! So cute!