Jennifer's Place Archive

back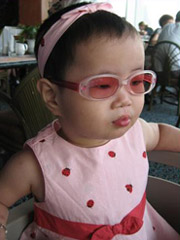 Zoie modeling a "Little Lady" dress and bow band!

Gymboree's "Little Lady"

Hello friends! As promised, we are moving on to a fun topic so many of us LOVE, whether you are home from China or waiting . . . shopping for our little ones! So today is about clothes. And ladybugs. And Gymboree. Sound good so far? Now one more thing: Ebay!

Last year Gymboree offered an absolutely darling line of clothing featuring ladybugs. The line was called "Little Lady." If you missed it, no problem . . . you can now find it on Ebay! I'll be referring to Ebay every now and then here at Jennifer's place, as I find it a great way to find fun and affordable items for Adrienne. So if you are looking for some sweet little ladybug clothes for your daughter, just go to Ebay and type "gymboree little lady" into the search box. Have fun!!

A few Ebay tips:

You will see that clothing items are either brand new, or used. Terms you'll often see in the item description are as follows:

NWT - New with tags
NWOT - New, but without sales tags
LN -Like new
EUC - Excellent used condition

Look for sellers with 100%, or very nearly 100%, feedback.

Note: I have absolutely no affiliation with Gymboree or Ebay. I am simply passing on a fun shopping tip!