Jennifer's Place Archive

back



Bows 101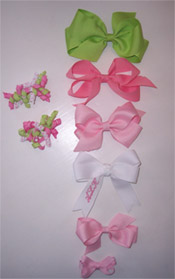 Bows ranging from
2 inches to 4 1/2 inches


I'm often asked where I've found the bows you see in Adrienne's hair - she wears one almost every day! Interestingly, I didn't even use hair accessories until she was two . . . and I think I've been making up for lost time ever since! And while I love bows because they are just plain cute, they are also a necessity for keeping her hair neat and out of her eyes.

The first place you might check for bows is at your local Wal-Mart. In the infant/toddler section you can usually find a good selection of clippies and bows . . . the infant bows are made with narrow ribbon and are about 2 inches wide. (bottom bow in photo) In the girls department I found larger bows in many colors - they are about 3 1/2 inches wide.

But the real fun begins when you shop for bows at the countless boutiques you can find on-line. Many sellers have stores on Ebay. There you'll find bows in every size, style and color. There are many, many talented women out there selling beautiful bows at reasonable prices! Many sites will feature photos of babies and girls wearing bows so that you can get an accurate idea of what size bow you prefer. Some even monogram or personalize bows, which I love! You'll also find made-to-match items . . . these are bows created to coordinate with popular clothing lines from stores like Gymboree.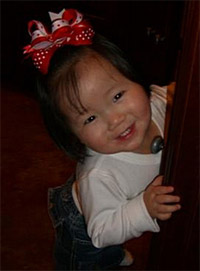 Bria in a 3 1/2 inch bow from
Cutie Pie Bowtique Bows


And don't forget the bowband option (see below), a fun and stylish way to wear a big bow on your baby girl! I have found that Adrienne, as a toddler with more hair, looks better with a traditional headband with detachable bow.

For babies, toddlers and even little girls you probably want to purchase bows attached to alligator clips. And remember, it is both the width of the bow AND the width of the ribbon used that determines the overall size.

Here are just a few on-line sources for you to consider:

Cutie Pie Bowtique Bows (do a store search for her on Ebay); Abbe Designs (www.abbedesigns.com); Blooming Bows (www.bloomingbows.com).

And don't forget to support any local children's boutiques you may have in your area - that is where I've found many of Adrienne's special bows. And when we travel, I always look for a bow to add to our ever-growing collection!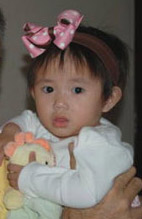 Abbie in a bowband
from Blooming Bows