Jennifer's Place Archive

back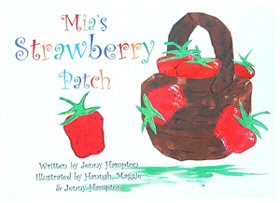 Mia's Strawberry Patch

Several of my next Jennifer's Place posts will highlight the creations of some talented mothers. And I'm excited to share about this first mother's project for many reasons, not the least of which is her commitment to supporting China's orphans.

Jenny Hampton, an American currently residing in Italy with her husband and three daughters, has published a delightful children's book titled Mia's Strawberry Patch. The Hampton's adopted Mia in September, 2006, using myadoptionwebsite to chronicle their journey. Mia's Strawberry Patch "celebrates differences while portraying a tender message of acceptance, self-esteem and love." Not only is it a sweet story, the illustrations done by Jenny and her daughters, Hannah and Maggie, are charming! Adrienne loves this book and I love how it helps me share with her about God's perfect plan.

Jenny has generously committed to donating 100% of the proceeds from her book to charities supporting orphaned children in China.

Mia's Strawberry Patch is available in hardcover and paperback at Amazon here.

To read about the Hampton's wonderful adoption story, please click here.

Ruby's Daddy

Diana updated us with news on Jeff's illness. His doctor now strongly believes that Jeff has an illness called "Acute Disseminated Encephalomyelitis." ADEM is characterized by a brief but intense attack of inflammation in the brain and spinal cord that damages myelin - the protective covering of nerve fibers. The doctor explained, "Jeff's immune system is fighting internally with his nervous system..." It could take 3 -6 months before he feels normal. While he is feeling fatigued, the great news is that he has been able to spend some time at work - with a recliner in the office for resting - and can once again drive! As always, they are so appreciative of your prayers!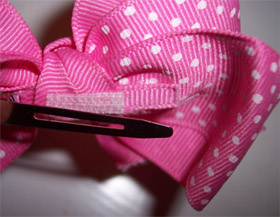 Keeping in a Bow

A myadoptionwebsite mother asked me a good question last month - - do I have any tips for keeping in a bow? I do have a few suggestions, the first taken from some bows purchased from a boutique. The idea is to cut a slender strip of self-sticking velcro (the scratchy side) and place it inside the alligator clip. This helps prevent the bow from sliding out of the hair. I found the velcro in the craft department at Wal-Mart.

Another is to first put in a little ponytail, using small elastic bands meant for children's hair. Then put the bow in. This works well for finer hair.