Jennifer's Place Archive

back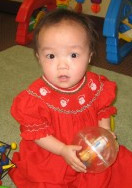 Praying for Brea

We're praying for a precious little baby girl named Brea, who was adopted by her forever family in October 2006. She has recently been hospitalized with Dialated Cardiomyopathy and her condition is very serious. Brea's family is asking for your prayers . . . they are using their adoption website to update family and friends and to spread the word for prayer requests. Please do take a minute to visit their site and pray for God's healing on their sweet daughter's heart.

The site is found here.

Thank you. And a special thank you to Cydney for taking the time to email Joe and me about this.