At Peace . . . and Bathing Suits!
I've been slow to post new information here this summer, and I attribute my reluctance to this wait. I would guess that many of you have gone through, or are going through, the stages of processing this incredible slow-down . . . each month adjusting to what it means for our hopes, our plans, our families, and most importantly, for that little baby we so believe is waiting for us. To share briefly, as I look back on the last few months I think it is safe to say we went through a "numb" phase . . . so discouraged that it almost felt surreal, and difficult to want to be lighthearted here. More recently we entered the "searching" stage, considering other countries and programs and really opening our hearts to a possible change. Some families are doing so, with joyful results. But as I write this, for now we have come to the conclusion that our baby is in China, and that somehow time will pass . . . and as so many myadoptionwebsite families have shared, this will all be a distant memory as soon as she is placed in our arms. I have hope, and pray that if you are feeling discouraged, that you will find some peace and hope as well.

So, I'm back! And ready to continue in my own way to help you pass the wait with fun and hopefully helpful information.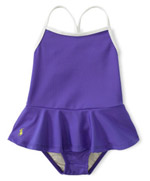 Bathing Suits. To me, summer-time means swimming, a fun and healthy activity you can enjoy with your new child. Some of you have even had the chance to enjoy the White Swan pool while in China!! With that in mind, I wanted to share a few of my favorite resources for darling, affordable suits. My first stop at the beginning of summer is Target. Every year they offer a huge variety of cute bathing suits. Another is Gymboree. They always have great matching items such as sun-hats, cover-ups and flip-flops. So fun!! Also, I discovered a line of beautiful and unique suits while shopping in a boutique recently: Kate Mack. This line will especially appeal to those of you who like things extra girlie!! To find Kate Mack you can do a Google search, which will bring up several on-line boutiques or a retailer new you; or go straight to Ebay and you'll find a wide assortment. Polo has a few of my favorite styles on sale now - just head to www.ralphlauren.com and click on the "baby" link, then click on "swim shop sale". While they are currently sold-out of many baby and toddler sizes, don't forget to check Land's End next year. Also, a reader emailed me on Sunday and recommended Kohl's.