Jennifer's Place Archive

back



Baby Names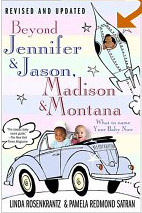 Baby Names Book. I have so many fun ideas to share with you this month, and the first is regarding names. While many of you have picked a name for your little one, just as many are likely still reading and pondering this huge decision. I have one sister, and Joe has two, and they are ALL expecting babies this year! So baby names are a big topic in our family! Joe and I have chosen to wait and share the name of our daughter on referral day, and right now we have our choices narrowed down to two! This is such a special, fun, and yet sometimes difficult part of preparing for your child. Choosing the name your child will carry forever is a huge responsibility! I thought I'd share my favorite baby name book with you, just in case you are looking for a helpful resource.
Beyond Jennifer & Jason, Madison & Montana: What to Name Your Baby Now, by Linda Rosenkrantz and Pameal Redmond Satran. Amazon says the authors, " . . . include list after list after list of possibilities organized into categories: popular names, old-fashioned names, comfy names, yuppie names . . . and so on. Annotated with humorous notes, descriptions, quotes, and name-derivation definitions, the book is a fun and fascinating read even for those not debating between Gravity and Jane or Mason and Hendrick." And The New York Times Magazine calls is "The classic baby name guide."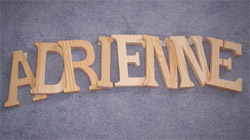 Craft Idea! Another name-related idea is one that I've seen in many of our families nurseries - the practice of using painted wooden letters to spell your child's name on a wall. I just love that! What a darling and fun way to personalize her room. You can find these letters in the usual places - Pottery Barn Kids, The Land of Nod, and Company Kids are just a few sources I've seen. But in my usual "how can I do this for less" mindset, I shopped around and found unfinished wooden letters at Wal-Mart! Our Wal-Mart has quite an extensive craft section - you may need to look at other craft stores in your area. At less than $2 a letter, this is a bargain! When I finally get around to finishing this project, I will use a satin or semi-gloss trim paint. That will give me the kind of "store-bought" finish I'm looking for - at just a fraction of the cost!