Thursday, June 26, 2008

Today was bittersweet as we awoke to our last full day in Shepherd's homeland. Bittersweet as we realize that he will be leaving all that he has known and entering into the land of the unknown. Bittersweet for us because we are excited to get home to see all the kids but will also miss the land that has allowed us the opportunity to expand our family by four and brought us so much joy. The morning was another in the theme of wet and rainy days -- we ended having rain about 50% of the time we were here. It made the days much cooler than Stefanie experienced last year but we did have to use the umbrella more and Stefanie actually had to walk barefoot home last night because of the large amount of rain. Interestingly enough, the umbrella is the perfect compliment to any wardrobe here because not only is perfect to ward off the rain but it also works for keeping the intense sunlight at bay as well. The day we went to the Botanical Gardens, the umbrella was great for keeping us from baking under the sun. Anyway, the rain failed to dampen our spirits as it was Shepherd's day to get his American Visa at the American Consulate in downtown Guangzhou.

After working out and letting me sleep in, Stefanie, myself, and Shepherd went down for our last breakfast buffet in the Victory Hotel. I personally took it as a challenge and polished off 12 quarters of french toast, bacon, juice, toast, and cheese. It was a great ending! We came back to the room and waited for 11 a.m. so we could take Shepherd to the White Swan clinic -- he has been tugging at his left ear and he has never really completely stopped couging. Because of the rain, we decided that it would be best for only me and the dude to venture forth. We moved out into the rain and enjoyed the time together to look at trees, cars, and people before arriving at the White Swan. Unfortunately, David and I couldn't find each other and the appointment didn't happen but the time with Shepherd was awesome. We scooted back to the Victory and let Shepherd eat some snacks and have some formula before he settled down on my chest for an early nap. Of course, not wanting to let such a golden chance to also nap, I joined him in sleepland while Stefanie ran out and grabbed some last minute gifts. I think she probably enjoyed the time out alone as much as Shepherd and I enjoyed the relaxing nap.

When we awoke, several minutes before Stefanie got back (made it seem like I was always on alert the whole time she was away -- very sly), we finished watching another 'great' flick on STAR. With our appointment to meet David to go to the consulate at 2:45 p.m. we had some time to play with Shepherd before heading to the White Swan early enough to get some more red counch pictures. It was Stefanie's great idea to take some more red couch pictures later than the original ones as she figured Shepherd would be more comfortable with us and therefore more likely to pose for pictures without the bawling and fidgeting we experienced with the early red couch pictures. It worked perfectly. He was so much better than he had been in our original pictures! We were even able to get some pictures with all three of us and Stefanie and the dude as well.

We made it to the meeting place with minutes to spare and then it was time to pile into the White Swan Toyota van (David explained to us that since it was a Toyota bus, it had better air conditioning than the other bus and that we were fortunate to be travelling in the Toyota -- we agreed of course) and head for the U.S. embassy. It is downtown and took about 30 minutes but we enjoyed the experience as we were able to chit chat with Tim and Nora on the way there. Upon arrival, we were herded up the stairs and through the usual rigamarole of scanners and waiting in reception areas before it was time to line up and for the official in the embassy to ensure we were who we said we were and to ensure that Shepherd was in fact the child shown and named in his Chinese passport. David was able to get us in line early and we were done rather quickly. Then while we waited, Stefanie was able to chat up some her internet blogger buds before it was time to stand up and take the oath for our Shepherd. The embassy official administered the oath, gave some advice and then asked how many were adopting for the second time and some hands stayed up. Then he asked about the third time and a few hands remained and then he asked about four times and we were all alone in that category. He offered congratulations as everyone clapped. We have gained so much more than we deserve from each adoption and we can't wait to get this precious boy home. We finished there and then it was out to the bus for the return to the White Swan. While there, we needed to see the doctor and they cleaned out Shepherd's ear with hydrogen peroxide (called double oxygen water here) and gave us antibiotics for a middle ear infection and bronchitis. Seems our boy is tough enough to hold onto everything, including sickness... oh well!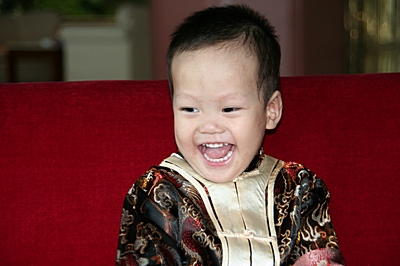 Red couch cutie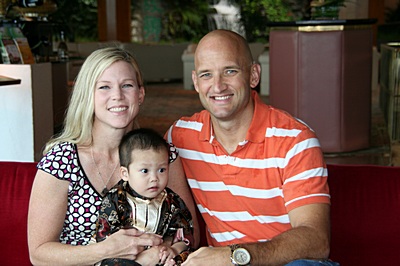 The family, minus 7!



Our adorable emperor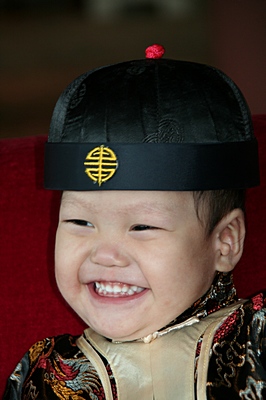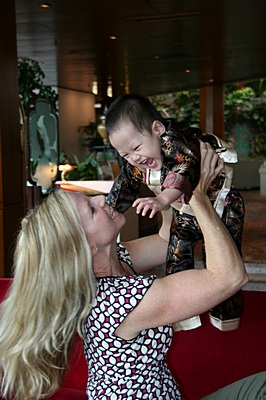 Happy little man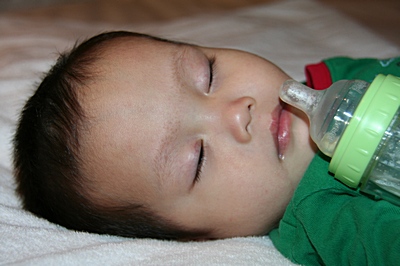 Lights out on our last day in China
Stefanie went back to the Victory while I swung by Lucy's for two bowls of congee for Shepherd. I brought them to the Victory and the dude was pumped. He starts kicking and bouncing while waiting for each bite. He finished and then the whole gang cruised down for one last meal at our favorite place -- La Dolce Vita. Stefanie ordered tonight and it was awesome: bruschetta and pizza margherita... perfect! We ate to our heart's content and then headed back. Stefanie was able to capture some last images of Shamian Island and then it was back to the room to finish packing, talk to Asher on the phone, give Shepherd a bath and bottle of formula, and, finally to catch some winks before our 4:30 a.m. wake up call.

Tomorrow will be full of travel and adventure... prayers are welcome and invited! Stefanie checked us in for our flights tomorrow and I know she picked the perfect ones.

Thank you for all your wonderful comments and following our trip. Thanks especially to Joe and Jennifer for taking our dribble and turning it into something beautiful that others might want to read. Also, a BIG THANK YOU, goes to Bob and Angie (G.G. and Mimi as well) for keeping our precious children safe and loved while we skirted to the other side of the world to add to our family.