Monday, June 23, 2008

Another day down in Guangzhou. It's both exciting and saddening to think we are getting so close to heading home... we miss our kiddos so much and can't wait to get Shepherd home and firmly ensconced in the family unit. But the time we have spent here has been so precious, each day witnessing Shepherd, cautiously, opening himself up to us. And China holds such an important place in our hearts, both as our children's homeland and as the place that God called us to when He planted the seed in our hearts to adopt. So we will be leaving here with mixed emotions, knowing it will probably be many years before we return.

Today was a fun day. Our wonderful guides, Rebecca and David, kept us busy with a trip to the typical Guangzhou tourist spots: the Chen Museum, the toy market and the Pearl River Cruise. We had visited the Chen Museum previously, but gained some additional insight as David, a history buff, shed some light on many of the subtleties of the Chen house. After the tour, I found some lovely watercolors in the gift shop, much nicer than I had found on the island, and purchased three of them for placement above our bed. Our master bedroom is slowly but surely becoming 'Asian' themed as each year I return with more beautiful things from China and can't bear to put them up in storage, so they are all on display in our bedroom. So we figured we'll just go with it and hang some Chinese watercolors also!

Next stop was the toy market, which really was a misnomer because it was 7 stories of 'stuff' and most of it was not toys. Just about anything and everything one could be looking for was housed in the thousands of tiny shops contained in this giant mall. Except the gameboy games I had hoped to buy for my boys ;) We found a few gifts for the little ones (Sophie will love the Hello Kitty silverware we found!) and we enjoyed having some free time to shop and peruse all the goods for sale. Shepherd seemed to enjoy the hustle and bustle of the huge mall, so long as he had a rice cracker firmly in his grip. Once his last cracker was gone, he was done for, which fortunately occurred right about the time we were to leave. He tried to fall asleep on the van ride back to the hotel so we had to pull out our "break glass in case of emergency" pack of Oreo cookies. Thankfully, that did the trick and he was content to make a chocolately mess of himself.

Once back at the hotel we laid Shepherd down for a nap and settled in for our afternoon movies on "Star" TV. I can say, with absolute certainty, that I have watched more movies in the last 7 days than I have in the last 7 years. The sad part is that not one of the aforementioned movies has been good. Our little running joke has been that it's called "Star" TV because all the movies are only one star, otherwise it would have been called "Stars". At least it makes us laugh ;) And, it's been fun to snuggle up next to my wonderful husband and crack up at the bad acting and ridiculous plots. I managed to pull myself away from "Even Money" and went out to run a few errands. There was a lovely antique jewelry box I had spotted at A Gift From China and I had been thinking about it ever since. I went back to get it (another gem for my growing collection) and then picked up our laundry (I am getting SO spoiled with that!), some congee for Shepherd from Lucy's and some more of Shepherd's favorite drink: baby tea. Baby herbal tea. Only in China, right? Soon after I returned, Shepherd woke up crying and we managed to feed him his congee, but then struggled with a crabby boy until he fell asleep again on my lap.

At 5:30 we rallied to head to the White Swan to meet the rest of the group for the Pearl River cruise. There was only a small crowd on the cruise tonight, even though the weather was lovely. And good thing, because my husband brought his appetite. Six plates later, he was done and by that time we were 3/4 of the way through the cruise. We had some enjoyable dinner conversation with the other two families in our travel group, both special needs families. We headed up to the deck for a few pictures just in time to for our boat to return to the dock. Once the night was over, we were sad to say goodnight as it would be the last time we would see Rebecca on this trip. Rebecca was our guide for Sophie's adoption so it was fun seeing her again and reminiscing about Xiao Xiao, or 'panda eyes' as they called our sweet girl, due to the bad fall she took a few days before our adoption.

Tomorrow we'll complete our paperwork for our Consulate appointment on Wednesday and then head to a local noodle shop for lunch off the island. It will be a nice change of pace from Lucy's and Cow and Bridge. One more day to enjoy our newest addition, and one day closer to home!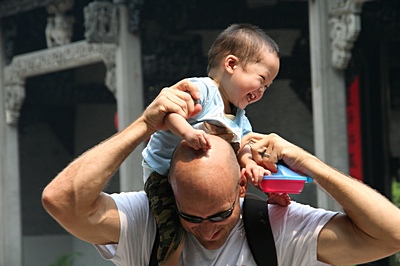 Having fun at the Chen Museum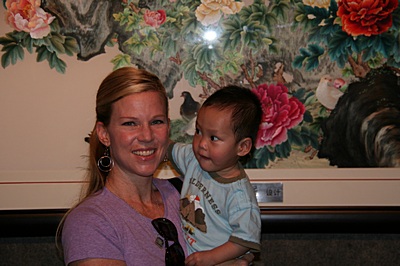 Mama admiring the beautiful embroidery,
Shepherd not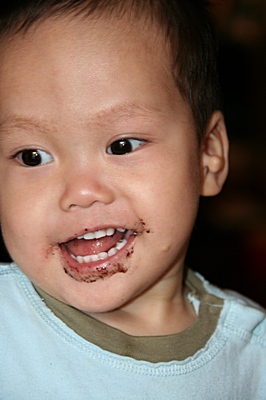 Oreo face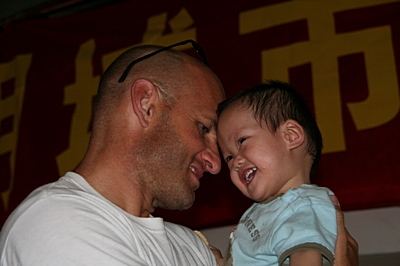 A Shepherd-Baba moment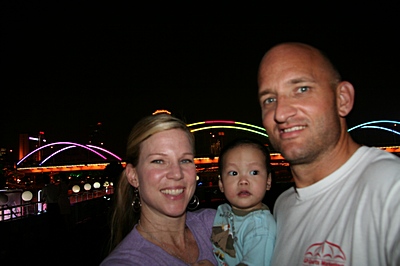 Family self portrait, atop the riverboat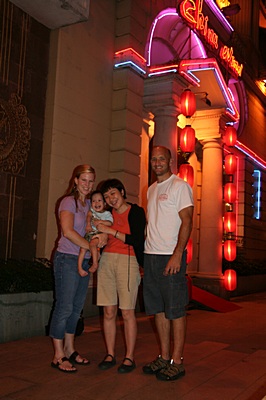 Saying goodbye to Rebecca