Saturday, June 21, 2008

Well, do you know those days when you wake up and know that the day will be filled with adventure and excitement? ...this wasn't that day. We woke later this morning than normal, which was good, due to having no morning required activities or meetings. Once we crawled out of the rack at 0700, it was time for a quick workout and then the dude woke up and decided it was time to play. We played throw everything everywhere and Shepherd cracked up at seeing how many times he could get Baba to chase the same toy around the room or pick up the sme toy off the ground. It is awesome to see how much interaction he is having with us now and his laughter lights up the room and helps us to realize just how quickly some kids can begin recovering their innocence after any trial that they may have faced in the past.

After some more playtime, we departed for breakfast on this side of the hotel (there are two sides to our hotel and we are on the west while the older section is on the east). After yesterday's attempt at this side's breakfast I think we will probably continuing eating here (west side) versus there. Shepherd was able to polish off some pork congee and play with chopsticks while also crushing a cracker in his hand. He has a totally amazing superpower -- he has the ability to turn any cracker, no matter the size or consistency, into mush. Not sure how that will help him in his future but I know that it will come in handy somewhere down the line. Anyway, Stefanie and I polished off some chow, me more than her -- especially the french toast. Apparently french toast here has to be served with honey which I found to be different but very tasty (to the tune of about 10 pieces) and Stefanie just found interesting. We then rolled ourselves out the door and out into the streets of Guangzhou to do some shopping and visit the Starbucks for a frozen caramel frappachino. After the coffee, which Shepherd really enjoyed (he actually seemed to be sucking some from the straw), we went to two of Stefanie's favorite shops. At one, we didn't find anything to buy, though there was plenty brick-a-brack and knick-knacks from which to choose, but did manage to avoid the cat which was about 200 years old, 7.5 ounces, laying on his back, and seemingly hacking up a hairball -- this thing was ancient, skinny, except for his head, and perhaps the laziest animal I have ever seen. We boogied down to another shop that is great because all the profit from the items they sell goes to orphans in northern China. They have antiques, silks, jewelery, and various other things. Stefanie was able to pick up gifts from friends and family back home. No revaling of the gifts just yet, that will wait until we can get them home and get them to you!

We had enough time then to get back to the room and let Shepherd play some more before it was nap time. He fell asleep while laying in his crib and holding my hand. Stefanie took care of some internet items and I watched another stupid movie on Star (quickly becoming my activitity of choice -- I didn't know that Hollywood could actually put out this many terrible movies). Shepherd woke up in plenty of time for us to get prepared and head to the White Swan to meet our guide and another family for a shopping trip at the mall. This thing is 5 stories high and circular with what seems to be a million stores and everyone hawking anything possible to buy in the entire world. It is at once fascinating and also intimidating. We were however able to throw down some buckage and satisfy the need to shop. Although when we returned to the island, we discovered that the mall trip hadn't actually cured the "buying bug" but had actually only scratched the itch so we proceeded to spend some more dough on items for ourselves and the family back home. After this spending spree it was back to the room for a quick and needed break, especially for Shepherd. He had another chance to throw some stuff around and then, lo and behold, he surprised us by walking back and forth to us. Stefanie, always thinking and quick with the electronic toys, was able to capture it on video. It was so cute seeing our boy who seemingly couldn't even sit up by himself when we first met him suddenly take off and motor, if a bit wobbly, across the room on his own -- a proud moment for a papa.

We decided to head to Lucy's for the congee for Shepherd and figured that since we would be there anyway to eat as well. Stefanie picked the spaghetti bolognese and I fish-n-chips (when in Rome do as the Romans -- ok maybe not every night). Shepherd was hungry enough to down two bowls of congee and crush another cracker; again showing that his superpower was no fluke but was indeed here to stay. After our meal it was grab the laundry time and then back to the room for Shepherd's bath and early bedtime due to his shortened nap. Like I said at the beginning, not one of those big adventurous days. It was however, in its normalcy, a reminder of the tremendous gift that each day granted by God is. Shepherd continues his incredible ascent into normalcy while we become more and more in love with him. Even the Chinese recognize that he is a happy boy. His laughter would make even the toughest soul laugh along with him. It is fantastic to share this adventure with him and yet, at the same time, we miss our kids back home and can't wait until we can all come together and share the joys of life together. So ends another night in China. Good night to all and join us again tomorrow for the high flying adventures of Shepherd and his parents.

Some new video of Shepherd is posted on the blog here.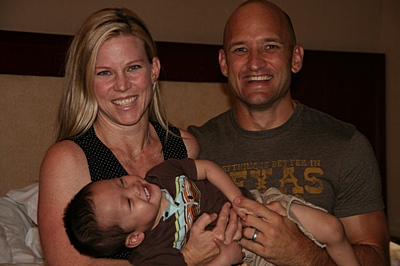 Being silly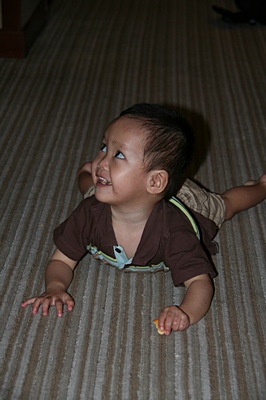 Tummy time



Baba gets the biggest smiles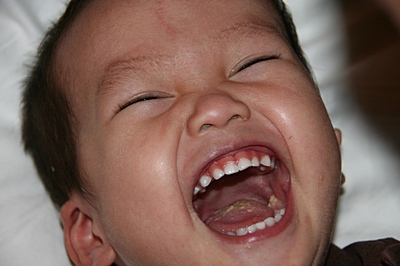 Our precious boy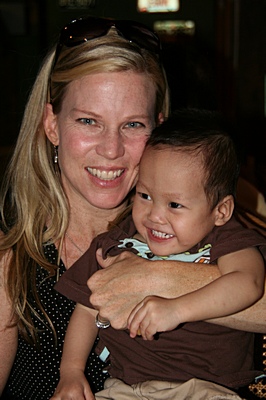 Having fun at Lucy's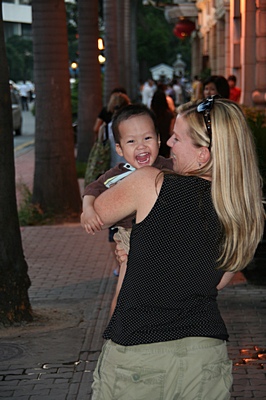 Enjoying a beautiful night in Guangzhou