Thursday, June 19, 2008

Today started out early as Shepherd woke several times during the night, wanting to be held on my chest to sleep. Of course, I acquiesced, but it made for some fitful sleep as he refused to budge, and cried unless he was laying just so. When we woke again at 7:00AM, I was relieved that we had all been able to get a bit more sleep. From there the morning went in fast forward as we had to get showered, eat breakfast and meet our travel group over at the White Swan by 9:30. The most time consuming task is trying to feed Shepherd, he has some oral issues and it takes a really long time for him to eat and drink. The zoo was fantastic. Maybe it was because it was a lovely morning (no rain and only 88 degrees!) or maybe it just felt good to walk around outside in such a beautiful setting, but we had a great time. The zoo had recenly built new enclosures for some of the animals and many of them were active because of the lower temperatures. Shepherd was content to sit on Chris' or my hip and be toted around the grounds, all the while eating Gerber cereal puffs. He didn't seem to have a favorite animal, but I think he had fun checking out the new environment. Chris and I enjoyed taking pictures of the animals on the gorgeous backdrop of the very old and beautifully built Guangzhou zoo.

Today held many more laughs and smiles as Shepherd continues to open up and let us see his budding personality. He loves to play little games and although he is very delayed developmentally, he seems quite bright. It's hard, if not impossible, not to compare this adoption with our previous three, and I'd have to say he is more delayed than any of our other children were at adoption. The jury is still out though, as we realize he is most likely still holding out on us, refusing to let us see all he can do. For instance he refuses to stand but we know he can because we have seen him standing in pictures. But so far, in many ways he acts and reacts like an infant. And it's hard to calm this mama's heart when I start thinking about all the therapies he will require beyond his special need of clubfoot.

Once back from the zoo we walked around the island for awhile and visited with another Dongguan family as they prepared to leave tomorrow for home. Around 3:00 we returned to the room and had to lay Shepherd down for a nap, against his wishes. He hadn't napped all day and while we have been trying to let him set the pace as we learn his schedule, we also realize the great need for him to get his sleep. It only took a few minutes of patting his back for his protests to cease and he slept, if fitfully, for the next 3 hours. He seems to be getting healthier everyday, his fever was gone this morning, and we hope that his cough and ear infection will soon follow.

Tonight, after having a hard time at dinner and with a bottle (he threw up his dinner after a coughing fit and does NOT want to drink his bottle!), we were overjoyed to hear his first vocalization, other than crying. He said, "aapp" as he gave Chris a spoon to throw in their game of "toss the spoon across the room". God is so wise and wonderful, He knows just what we need for encouragement and gives it at just the right time :)Tomorrow we will visit Shepherd's orphanage and finding spot. We expect it will be a difficult day as we anticipate Shepherd grieving over having to leave his nanny again. But we also recognize this as an opportunity to give our son some closure and hopefully a distinction, if just on a basic level, between his past and his future. Please keep our little guy in your prayers!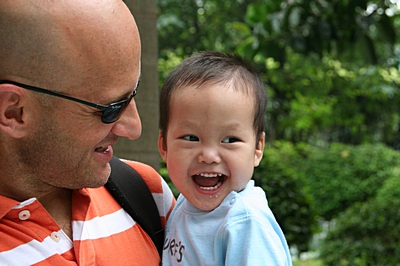 Enjoying the zoo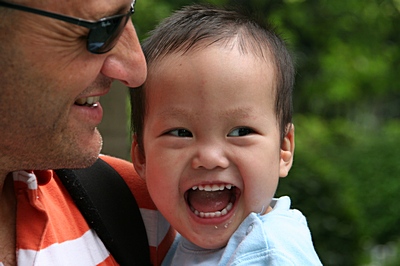 Happy boy!



Beautiful zoo animals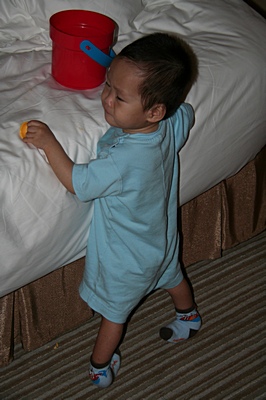 Shepherd standing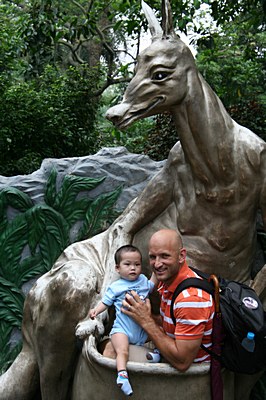 In the kangaroo's pouch