ALL ABOUT JUDE

On September 26, we received a call that would change our lives. On the other end of the phone was social worker, Kelly de Rosier, asking us if we would like to look over the file of a little boy she felt would be "perfect for our family"….

Zhang Jia Ming, male, was born on 2/9/2006. He was found on 2/16/2006 at 8:30am at the Gu Tian County West District Police Station by Chen E Mei who was a worker at a welfare institute. A note in red was with him. It's written "Birthday - 2/9/2006, (January 12, in Lunar Calendar, 2pm)". He was sent to our Institute and we named him Zhang Jia Ming.

After admission, the child was cared for in a group environment. He drank fresh milk or formula at first. After 2 months, rice cereal was given 5-6 times at 6:00, 9:30, 14:00, 18:00, 22:00. The amount was 150ml. Jia Ming gets up at 6:00, takes his nap at 12:00 and goes to bed at 19:00. He takes some short naps here and there. He goes to activity room twice a day to listen to music and play.

Zhang Jia Ming's height is 59cm; weight is 6.2kg, head size is 40cm, and chest size is 41cm. He can hold his head up when lying on stomach. He can locate the direction of sound. His eyes can follow moving toys or people. He turns his head when his name is called. He giggles when someone touches his face. He is active and responds quickly. He loves listening to music. The doctor has given him all the immunizations according to the schedule. Other than congenital club feet, he is healthy.

-Gu Tian County Welfare Institute
6/20/2006


Now when I speak Your name
I sing it like a sweet refrain
I have found a peace I can't explain
When I speak Your name

Cause when You spoke my name
Oh I swear the angels sang
Peace came and stole my shame
When You spoke my name

I can hardly speak
Knowing You know me
Thank God I'm free

Mercy Me ~
When You Spoke My Name


The first updated pictures of Jude that we received were taken in October 2006.
Take a look here!



Updated information on Jude dated January 9, 2007

1) Could we get current measurements of Zhang, Jia Ming, including height, weight and head size?

His height is 71cm (27.75 in), weight 8.9kg (19.5 lb), head circumference 45cm (17.5 in), chest circumference 48cm (18.75 in) and foot length 11cm (4.25 in). He has 5 teeth (top 3, bottom 2) now.


2) Has Jia Ming begun to crawl? Or is he able to scoot on his belly?

He can scoot on his belly.


3) Is Jia Ming able to reach and grasp an object? Can he transfer the object from one hand to the other? Can he hold an object and bring it to his mouth?

Yes, he can reach and grasp things, can transfer things from one hand to the other and can hold an object and bring it to his mouth.


4) Is Jia Ming babbling?

Yes, he can say "ma ma", can recognize familiar and stranger. He can turn over by himself, ride a go-cart "walk" around and trying hold rail to stand up.


5) Has Jia Ming suffered any illnesses since the last report we received in June of 2006?

No, he has been very healthy.


6) How would the caregivers describe Jia Ming's personality?

He is lovely, active and busy. He enjoys music, watch children's programs in TV and play with other children and ayis. He is a smart and outgoing boy, like to play with other children and laugh.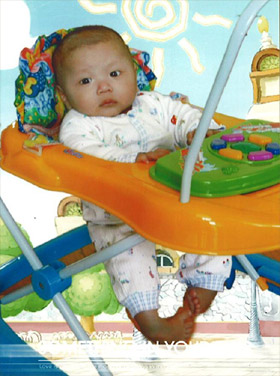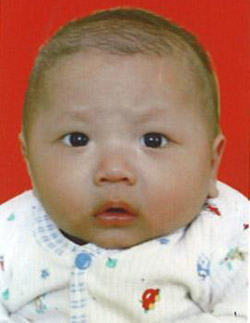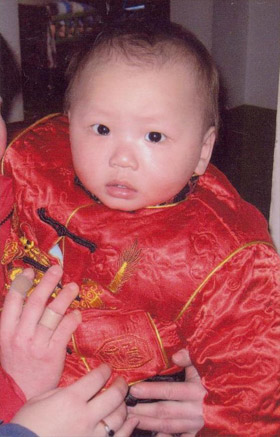 Updated photo!
(taken Jan. 11, 2007)

ABOUT JUDE'S CHINESE NAME

JIA
good, auspicious

MING
bright, brilliant
JUDE RECEIVES OUR FIRST CARE PACKAGE!
(pictures taken January 22, 2007)