Jennifer's Place Archive

back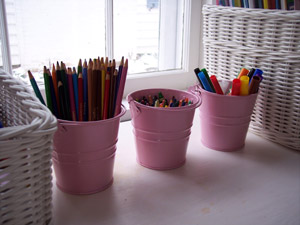 A New Journey

I am on a journey of another kind right now. One that has eluded me for years, and in many ways continues to elude me. But I will not give up, I will not be defeated. My battle, my journey?

To completely organize my house.

One area of the home where I am seeing marginal success is in Adrienne's room, and with Adrienne's "stuff" in the other areas of the house. I've discovered that in order for her to play with something, is has to be in view or very accessible. (If it were up to her we'd either talk or dance all day!) Many of her favorite toys are in easy to reach baskets on her bookshelf, on the floor, and on shelves in her closet. And because she enjoys art so much, we created a space just for her in our living room that contains everything she needs - crayons, paints, markers, colored pencils, stickers, stamps and stickers - all organized in plain view for her to use and enjoy.

Like many of you I'm a huge Pottery Barn Kids fan. I enjoy pouring over the catalogs, getting ideas for decorating and storage. And while we occasionally make a purchase there, I like to bargain shop for similar items elsewhere. I stumbled upon these great little painted buckets in Wal-Mart recently, in the Easter section. Target often has them in the $1 section in the front of the store. For $3 I purchased 3 buckets that look cute, and more importantly, perfectly organize items on Adrienne's desk.

And in case you are curious, the desk is a small white painted table we've had for years. Our contractor cut the legs down for us to create the ideal little girls desk! The white baskets are from PBK . . . they are very versatile and well worth the cost.

That's all for today! Happy organizing!