Jennifer's Place Archive

back



Buying the Basics

First, let me offer joyful congratulations to all the families who received referrals this week. Joe and I are so happy for you! Especially our myadoptionwebsite families - you waited so very long for this wonderful day, and we celebrate with you.

For those of us still waiting, I know that so few LID's being matched was once again very hard news to take. While we are finally now in November, it doesn't do much to ease the pain of this slow, slow process. Last month I did my best to write a message of comfort and hope. This month, I'm trying something different: Retail Therapy.

It has been mentioned by some that they are choosing to wait for their referral before they shop for clothes. And I can relate to that, as I really didn't purchase a whole lot during our wait for Adrienne. We were on a budget, and I worried about buying items that wouldn't fit, or would be out of season when they did fit. With that in mind, I want to share some thoughts about basic clothing items you might consider if you are longing to shop, to feel that you are preparing for this child and celebrating that you are indeed going to be a mother! To see a few items hanging in her closet, while at the same time being true to your practical side.

In no particular order, here are a few basics I think you can count on using and enjoying on your little girl: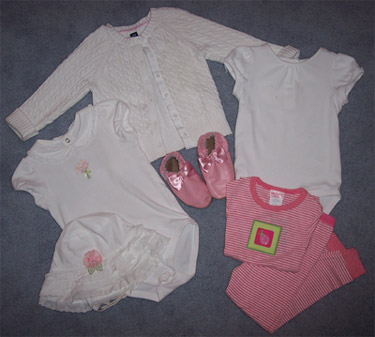 1. A white cardigan sweater. Adrienne actually has three right now, all courtesy of her generous grandmothers! These are the most versatile and often-worn items in her closet. Cute with almost any outfit, and especially perfect over dresses, a white cardigan is a super item to buy for your little girl.

2. Nice white onesies. I am always on the lookout for a cute, quality white onsie. Because, again, the are extremely versatile and in our home, get worn all the time. Under sweaters, jumpers, and overalls.

3. Nice white onesies with round collars! I just love how these look by themselves with a cute skirt or pants, or under a sweater. It dresses up an outfit in a darling way!

4. Hats. Especially a basic white hat with a wide brim. It will match anything, and truly, is there anything cuter than a baby girl (or toddler!) in a hat?!

5. Crib shoes. These are fun, soft leather shoes that are great year-round. You will find many brands, though Robeez seem to be the most popular. Gymboree often carries crib shoes to coordinate with outfits. And I've noticed that Target is carrying a brand in darling styles and at a very affordable prices.

6. Pajamas. Almost every children's clothing stores carry them, and you can always find them on sale. There are endless choices and they are such a sweet little item to buy for your future child. Affordable, practical and cute!

My thoughts on size: If you have requested a child who is 6 - 12 months, or as young as possible, chances are that 6 - 12 month clothes will fit. However, since the purpose of this post is to be safe, buy bigger. Because she will grow into things before you know it! So if you find that perfect little sweater in a size 24 months, go for it! I am a bargain hunter and buy ahead quite a bit. It is very helpful to have a bin of clothes set aside for when Adrienne is older.

You notice that I recommend onesies. I just love how they stay in place, since they can't come un-tucked! This was nice when Adrienne wore diapers. She is now outgrowing that style of shirt, though Gymboree often offers some in 3T and sometimes 4T.

My last comment is about dresses. As you may have noticed, I love dresses and so does Adrienne. Simple, comfortable ones. Many of her favorites have been, or will be, worn for a few years. With the help of cardigans and cute cotton pants or leggings, some are worn year-round. She has a darling, summery "twirly" dress that she wore the first year as a dress, and this year as a long swing top over pink cotton pants. If she wore it in the winter, I just added a sweater. So if you want to invest in some dresses, watch for A-line styles, and consider purchasing a matching pair of pants or leggings in a larger size, so as to get even more mileage out of your purchase. In fact, just yesterday I bought white cotton pants for Adrienne at Old Navy for less than $4 so that she can wear some of last summer's dresses again. (I'm thinking of buying a few more pairs and sewing ribbon on the bottom of the legs to match certain dresses for a more cute, coordinated look . . . if it works, I'll share that in a future post!)

I hope these tips help you a bit, and give you one more way to pass this long wait and feel a little closer to your future girl!